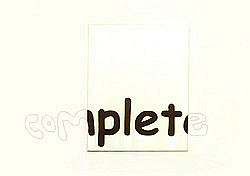 click here to view larger image

Another work using the atelier wall: Slip

Book cover using similar concept: gnit


Incomplete
acrylic paint, cotton canvas
40 x 50 cm
2001

The "plet" is painted on the canvas and the "com" and the "e" are written on the wall with pencil.

Originally the "com" and "e" were also painted on the wall in the same color and font.

But I left it up on the wall for too long and one of my colleagues painted over them.

This piece was shown in Rotterdam's Galerie De Aanschouw in 2002.