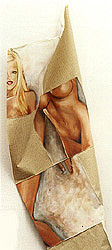 click here to view larger image


Nice Piece
oil paint, cotton canvas, 1 x 2 meters
2001

Eye-catching? Sensationalism?

Written on the back of the canvas is the transcript of a two-hour salon discussion on 'sexuality in art.' The organic discussion touched on many angles of the topic, for instance:

Someone said that art school graduation exhibits often have a lot of sexual content because art school graduates are at the age where their hormones are raging.

Another person talked about the Guerilla Girls who are known for saying, "Do women have to be naked to get into the Metropolitan Museum of Art? Less than five percent of artists in the Modern Arts section are women, but 85 percent of the nudes are female."