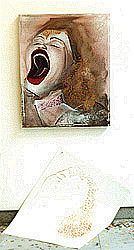 click here
to view larger image


Shed Skin
oil paint, 2 cotton canvases, 2 linoleum prints
80 x 50 cm
2001
collection Gail Whiteman

The gold linoleum print both appears in the painting and in the 'after image,' which has decorative elements of the hair, hints of the eye, a line of the face, but the "scream" is gone.

This 'after image' was the jumping off point for the glow-in-the-dark paint 'after images.'

This painting came after the A Color and a Field painting. So I still had ideas of 'decorated grief' in my head.

I'd also just seen a Francis Bacon exhibit in The Hague. I'm sure I was influenced by his Screaming Pope, which I love.